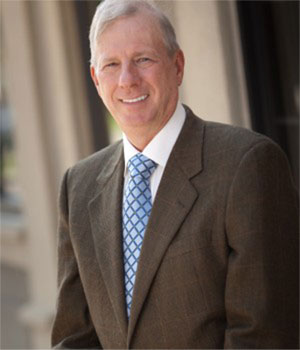 Mark was born in a small town in Nebraska where he met and married his childhood sweetheart, Alice. He loved his dentist growing up and knew early on that he wanted to be a dentist. Growing up in a large family with 11 brothers and sisters made going to college a daunting prospective. He and his wife had to work many jobs throughout college to be able to make it happen. At the same time, they started their family and had 2 children, Mark and Carissa.
In 1980, Dr. Erickson was given an opportunity to join a dentist in Wellington, KS. He and his wife decided that Wellington would be a perfect fit for them. It was a small town where they would feel safe raising their children and it was south enough to make the winters milder. As a bonus, Dr. Erickson had a good friend in dental school who wanted to move to southern Kansas as well. They joined forces and started shared dental practices in Anthony and Caldwell. Over time, Dr. Erickson ended up the sole dentist in his Wellington and Anthony offices. In 2000, his daughter graduated from dental school and moved back to join him.
Dr. Erickson loves golfing and hunting. When he's not on the golf course or in a tree, he spends his time on his farm. He loves to garden and grows the best sweet corn and other vegetables every year.
Nowadays he gets to spoil his 4 children. He enjoys watching his grandchildren play sports and take part in other school activities. He never misses a chance to root them on.
---
Dental History
Board Certified Doctor of Dental Surgery in Kansas since 1980
University of Nebraska College of Dentistry
Accepted into DDS Dental Program
Graduated May 1980
Las Vegas Institute for Advanced Dental Studies
Received Fellowship in July 2011
Invisalign Certified since 2002
Las Vegas Institute for Advanced Dental Studies (LVI)
Completed Neuromuscular TMD continuum including Full Mouth Reconstruction
Member of the Kansas Dental Association
Member of the South Central Dental Society